Customize and produce yours
SKATEBOARD
Scroll
Down
Seven layers of Canadian maple and more
Complete boards and skateboards
We manufacture the best professional skateboards in all shapes and sizes. We use 7 layers of select Canadian maple that is pressed and custom machined to provide long lasting "pop" and responsiveness.
Thanks to the complete control of the production cycle, it is possible to customize not only the printing, but every detail of the product: Colors and type of layers, shape, pitch, laser engraving, varnishing and other finishes.
Beginner skates, cruisers, longboards and surf skates, customizable down to the last detail and available in a wide variety of materials such as birch, pawlonia, fiberglass and bamboo, complete the catalog of our wheelboards.
Min. 50 pieces per graphic / model.

Skateboard Collection
Models available

Classic Popscicle

Assembled skateboard

Old school
Special shape

Cruiser

Longboard pintail

Longboard freestyle

Longboard freeride

Longboard shaped

Surf skate
Can't find the model you are looking for?
Our catalog contains over 250 different boards between shapes and models, as well as wheels and accessories. If you do not find the model you are looking for above, fill out the form to download the catalog.
Customize every detail
Options and finishes
Not only graphics, with us you can customize every detail of your products: Design, shape, packaging, packaging and accessories from 50 pieces per graphic / model.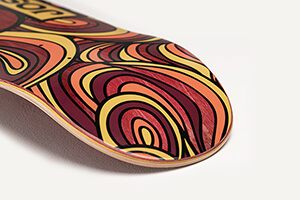 Bottom print
Four-color digital printing or screen printing with spot colors and the possibility of creating UV, fluorescent, transparencies, reliefs and hotfoil effects.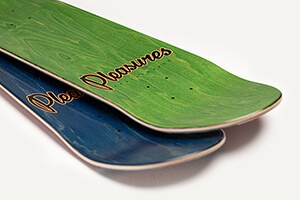 Top Print
Four-color digital printing or screen printing with spot colors. For small logos, graphics or all-over on the entire surface.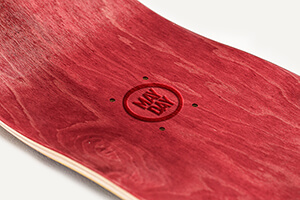 Laser engraving
You can create small logos, texts or limited edition numbers on the top of the board.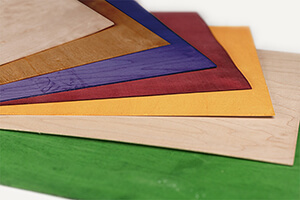 Colored layers
Choose the color and position of each layer of your board for ultimate color matching.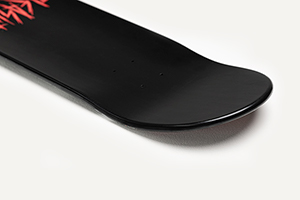 Full painting
Do not like the grain? You can paint the panel a color of your choice before applying the artwork.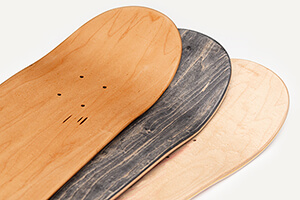 Wood finishes
Sei un maniaco delle venature? Scegli il colore dell'impregnante per ottenere la finitura del legno che preferisci.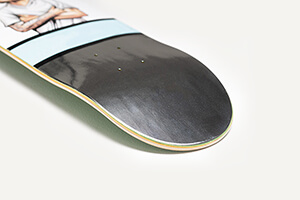 Hot foil
Add an elegant and unusual twist to your graphics with a silver, gold, glossy / matte or holographic effect foil.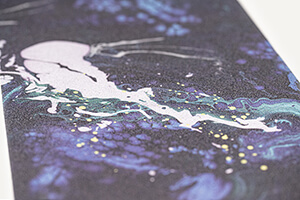 Grip print
Are you bored with the black of paper glass? Customize it with graphics. Available in single sheets or applied to suits.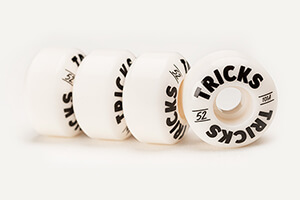 Print wheels
Choose the hardness and shape you prefer, the color of the material, and apply your graphic to your wheels.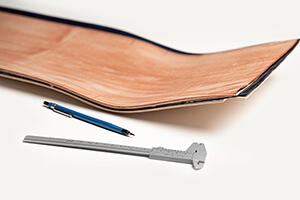 Shape development
Are you looking for a very precise or special shape and concave? Let us make it possible! The first mold is never forgotten ®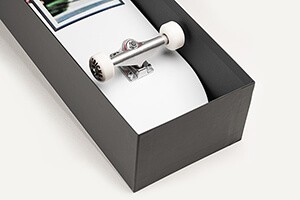 Packaging
From a simple sticker to a warranty card that accompanies the packaging or the creation of more complex cardboard packaging solutions.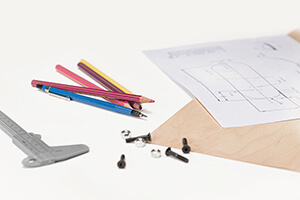 Design
If you need help in the design phase to create your graphics, executive files or packaging.
Ready to ride ?
Contact us!
Thinking of starting your own production? Contact us through your preferred channel and we will respond as soon as possible.
We do not carry out direct sales to private customers.
Prices and info?
Do you want to consult the skate and accessories catalog, the price list or do you need information and clarifications?
Fill out the form
Test ride ?
Would you like a sample to evaluate its quality, to make a mocku-up or to test it in the field?
Buy samples
Ready project?
Are you already at the next level and you already have a graphic, a project or a document that you want to share with us?
Upload the file